Best Cycling Paths in UAE

Nad Al Sheba Cycling Course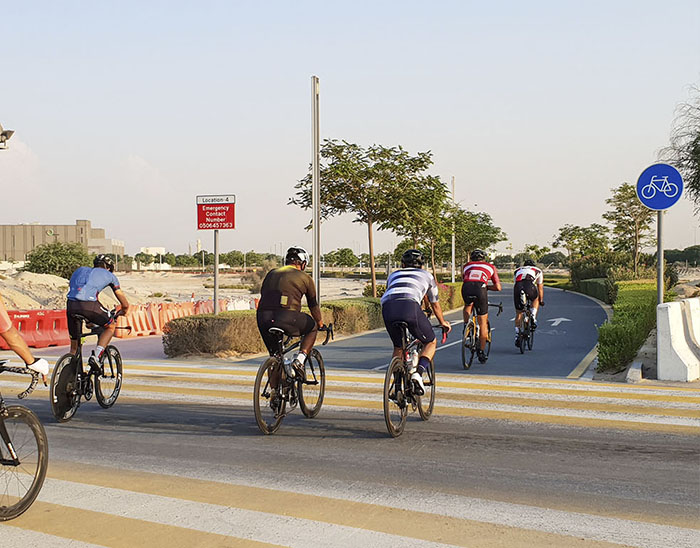 When the Panoramic Views of Burj Khalifa and downtown Dubai doesn't distract you from the course ahead, Then no doubt you are in the Splendid race track of Nad Al Sheba. This Cycling Path offers a stunning ride experience with a spectacular view of Dubai's Skyline in the Horizon.
Once a barren camel track, now turned into an activity park for all kind of folks. Nad Al Sheba offers levels of cycling paths, 8km, 6km, and 4km. Along the line are enough amenities, including Changing rooms, toilets, showers and lockers. For Night Riders, the course will be well lit to make the tracks comfortable. Even though, Bike lights are recommended at night for safety.
With roundabouts, road signs and Speed bumps, this place make the perfect spot to teach Children about road safety.
The course is located on the other side of The Meydan Hotel in Nad Al Sheba, Dubai and the entry is Free.
Al Qudra Cycle Track
The 84 km track of Al Qudra is the world biggest designated Cycling Track. One of the most popular cycling paths in UAE, Al Qudra offers two main trails.
An 18km track along the northern part of Al Qudra Road in Dubai, and a 50km course through the sands along with the Bab Al Shams Desert Resort, From where riders can have some rehydration.
Some native animals often roam around this area, including camels wandering in the plane sunlight and If you are lucky, you may get a sight of Arabian oryx.
This Path is the calmest and peaceful cycling path with a clear indication of kilometres at periods and helps you to set your bikes speed according to distance. It's better to be with a cycling companion in this route. Because when you ran into any difficulty, this hard to find other people in this area.
At the beginning of the course, there are some amenities like Changing rooms, a cafe, and a bicycle rental shop. Make sure to keeps enough water and snack for hydration, as along the path there are very few facilities.
For beginners and Advanced Cyclists, Cycle Safe Dubai (www.cyclesafedubai.com) organizes rides on Friday mornings.
Yas Marina Circuit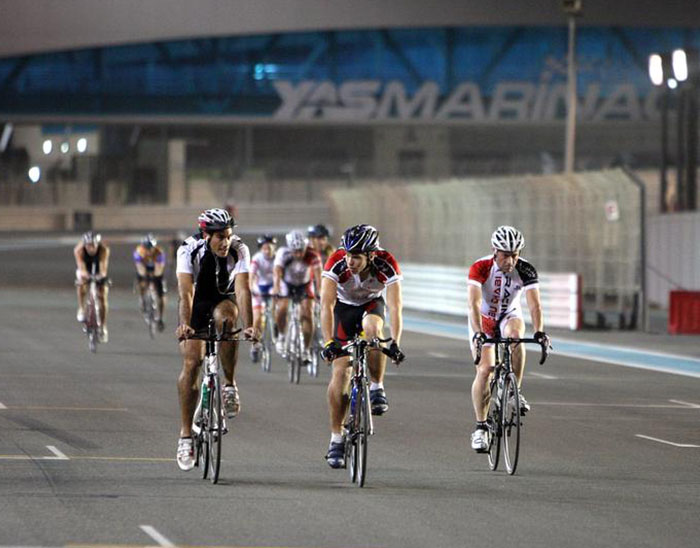 For anyone who dreamt of riding on a Formula One track, Abu Dhabi's Yas Marina circuit makes their dream come true. But one catch, Not on a high-speed Formula One Car. For Professionals and amateur cyclists, Yas Marina circuit offers programmes on every Tuesdays and Sundays, Allowing them to pedal inside the world quality 5.5 km Formula one track. And also a special programme for ladies every evening on Wednesday.
Along with cyclists, Walkers are also allowed in inside but will loop in the opposite direction along the track. There are also options for Bike and accessories rental in the nearby sports shops.
Dubai Autodrome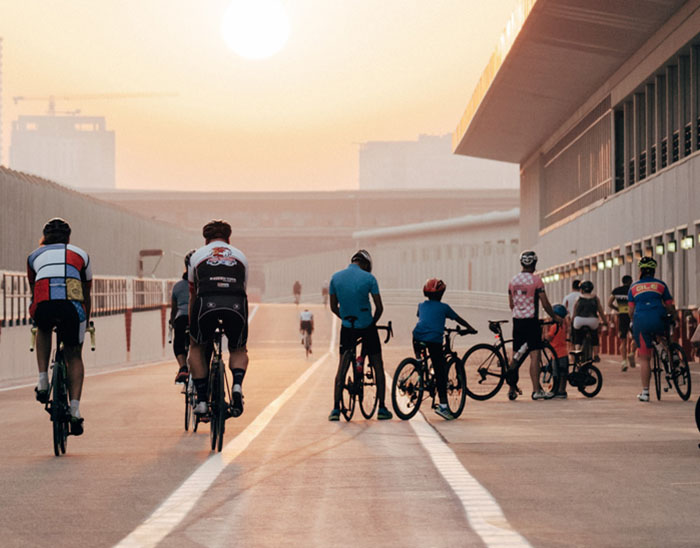 2.4km Cycle track with floodlit and safe surroundings, Dubai Autodrome, holds Cycle nights from 6 pm to 9 pm on Wednesdays.
This course offers enough rooms for all, including runners, Walkers, and Rollerbladers who can share the track with the cyclists. A pit of Crew for assist and medical personnel will be on the ground to ensure the activities are going smooth.
From Tricycle kids to professional bike riders, This track gives the best for all. A couple of ups and downs in cycling terrain and the often blast of wind will increase the adrenaline rush of cyclists.
Same as other cycling paths, This track also allows free entry and rentals of bikes and accessories are available in bike stores nearby.
Abu Dhabi Corniche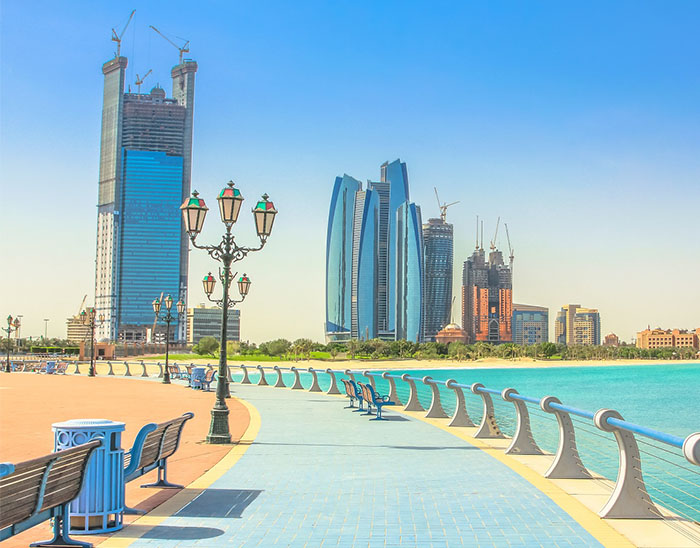 For those who are more into a Sunday Strolling than Hardcore riding, Abu Dhabi's Corniche Broadwalk is an adequate choice. This 8km Cycle track with designated Cycle lane takes the leisure pedalers into a Safe passage without any fear of pedestrian intersection. But not ample for the extreme riders because the walkers are within Short Distance. Also, This Place is more a Family-friendly atmosphere, Where the beachfront is along the way.
With a line of Cafes and refreshments near the edge, Abu Dhabi Corniche offers plenty of rehydration and breather choice. Also, The bike rental stores are at close proximities.
Hatta Mountain Bike Trail Centre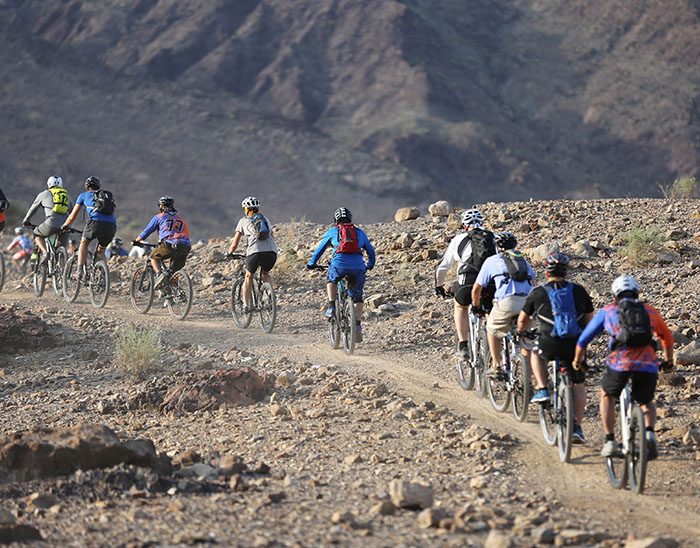 The Ruffed terrain for all extreme adventurous riders. The Hatta Mountain Trail is inarguably the perfect choice for Mountain Bikers with Stunning Spectacles along the path. This Trail centre offers Various cross-country trails of multiple grades, allowing riders from amateurs rider to professionals to take part in the course.
The terrains are Splits into different sections. Green for Amateurs Mountain Rider, Blue for intermediate Riders, Red for Experienced Bikers and Black for highly Skilled Riders. The region covers various grounds, From wide and flat trail to Steep and Narrow trails. Also, features Large rock paths, Medium Steps, Valley Crossing, Chambers for Advanced Riders.
The main campsite has amenities like Shower areas and washrooms. And also Some Cafes and supermarkets are in the vicinity.
The Hatta Mountain Trail Center is opened for 24 x 7 and entry is free. A mountain bike with Full Suspension is recommended.